Auto TLD Badge Reader (Model TLDBR 7B)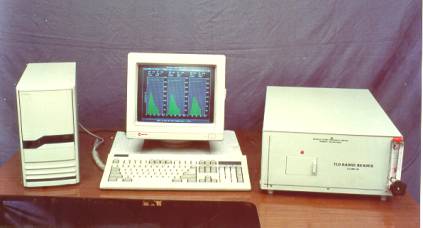 Auto TLDBR is a PC based TLD Badge Reader useful for monitoring radiation dose received by the personnel working in radiation environment. It processes 50 TLD cards automatically with read out time as 30 sec/dosimeter.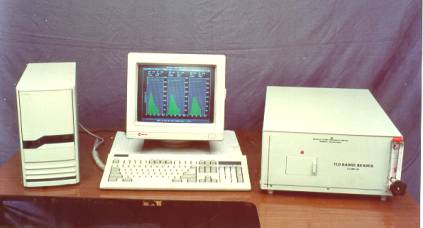 PC based automatic TLD badge reader (Auto-TLD BR) has been developed to ensure health and safety of persons working in radiation environment, to monitor the radiation dose received by them and maintain a record. The Auto-TLD BR (Model TLDBR 7B) is capable of automatically evaluating 50 TLD badges and has following improved features over manual TLD Badge reader(TLD BR-3B) 

Salient Features 
Automatic feeding of 50 TLD badges 
PC based design 
Glow curve storage for authenticating the recorded dose 
Extensive PC-resident software for reader control & dose evaluation 
Built-in diagnostic software & safeguards against malfunctioning 
Fast readout: 30 sec per dosimeter with electronically controlled gas heating 
Range: 1Sv to 5 Sv 
Applications 
Personnel Monitoring of radiation workers in Nuclear power stations, Isotope laboratories, Industrial radiography installations, diagnostic & therapeutic radiology centres, etc.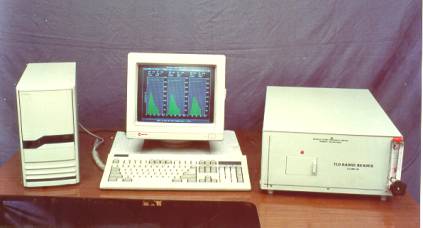 Over 100,000 persons in India are working in radiation environment -- in nuclear power stations, radiography installations, cancer therapy hospitals, diagnostic X-ray centres, nuclear research institutions, universities, colleges, etc. - engaged in harnessing the peaceful uses of ionising radiation for the benefit of mankind. To ensure the health and safety of these persons it is necessary to periodically monitor the radiation dose received by them and maintain a record. Presently about 41,000 radiation workers from more than 3000 institutions are being monitored. A PC based auto TLD badge reader can process up to 50 badges loaded in a magazine at a time. The BARC TLD badge contains an Aluminium card holding 3 TL dosimeters sandwiched between energy discrimination filters to distinguish the beta, X & gamma radiations. The readout time is typically 100 sec. per badge and 50 badges are read in about 90 minutes.

Operation
In the Reader, the aluminium cards containing the TL dosimeters are removed from the badges and loaded in a magazine. The identification number (12 digits) is entered manually through the PC controlling the Reader using the appropriate software, in the same sequence in which the cards are loaded. The cards are automatically picked up, the three dosimeters of the card are heated one by one and the emitted luminescence is measured using a high performance photomultiplier. The mechanical movements, the readout process and the communication to a PC are controlled by a microcontroller (Atmel 89C51). A hot Nitrogen gas heating system is used in the reader for efficient heating of the dosimeters. The output from the light collection system is logged at 1 sec. intervals and the 'glow curve' ( the plot of light emission vs time ) is plotted on line on the screen in a bar chart form. The readings and the glow curve data are stored in a floppy / hard disk. The reader operations are controlled through the PC console using a user-friendly and menu-driven software written in 'C'. A random access recall program also has been developed for quick recall of any of the stored data.

Technical Specifications

| | | |
| --- | --- | --- |
| Dosimeter | : | Three-element BARC CaSO4(Dy) PTFE disc dosimeter badge. |
| Light Measurement System | : | Photomultiplier tube ( EMI 9125A - bialkali ) Light measuring system (LMS). |
| Dark current | : | Dark current is 1 Sv (CaSO4) equivalent with software based sampling & subtraction. |
| Heating Method | : | Hot gas (N2) heating. |
| Heating Cycle | : | The temperature is raised to 280oC in 8 sec and clamped at 280oC |
| Dose Range | : | 50µSv - 5Sv (gamma) and 100µSv - 5Sv (beta). |
| Detection Threshold | : | < 50µSv. |
| Readout Time | : | 100 secs. per badge |
| Residual Signal | : | < 10% of reading |
| Facilities Available | : | Entry of badge ID numbers, calibration factor, etc. Storage of dose and glow curve data of badges in floppy/hard disk Motorised driver assembly for automatic feeding of 50 dosimeter cards loaded in a magazine. |
| Software | : | IBM PC compatible menu driven 'C' based software operating in DOS mode for transfer of data to a user defined file, storage & display of glow curves, computation of dose & generation of dose reports. |
| Temperature Monitoring | : | Chromel Alumel thermocouple in hot gas stream. External temperature monitoring output at the back panel |
| Range Selection | : | Automatic from 9.999mSv to 5.000Sv |
| Calibration | : | Coarse adjustment by varying the EHT through a potentiometer in the EHT circuit ; Fine through software. |
| Safeguards | : | Heater / Gas flow Failure: The heater and gas flow are checked for failure in every dosimeter readout cycle. In the event of failure of heater or gas flow the readout is terminated and a message indicating heater / gas flow failure is flashed on the PC monitor. |
Mechanical failure

Any mechanical failure during readout cycle is sensed using a timeout watch dog programme and the cycle is terminated with an option for the user to restart the cycle.

EHT/ Input circuit failure: Failure of EHT or the input circuit (I-F converter) is sensed and reading cycle is terminated in case of failure.
| | | |
| --- | --- | --- |
| Nominal Power Supply | : | Power supply :230V, 50 Hz : power requirements: 500 VA (max including PC) |
| PC requirements | : | IBM Pentium II or upward compatible, with FDD & HDD drives, VGA monitor, Serial & parallel ports with windows 98 operating system. |
Applications
Personnel Monitoring of radiation workers in Nuclear power stations, Isotope- laboratories, Industrial radiography installations, diagnostic & therapeutic radiology centres, etc.

Infrastuctural Requirements
Electronic Assembly Facility

Mechanical Assembly Facility

Test and Measuring Instruments for voltage, current and temperature, Oscilloscope, EPROM Programmer, N2 Gas Cylinders.

Skilled Man Power : Persons for electronics and mechanical assemlbly and testing

Import : Photomultiplier Tubes, Integrated Circuits.
SR NO.
COUNTRY NAME
PATENT NUMBER
No Data Found.
SR NO.
NAME
STANDARD NUMBER
LOGO
No Data Found.
General License Fee : ₹ 300,000.00 (Three Lakh)
General Royalty : 0%